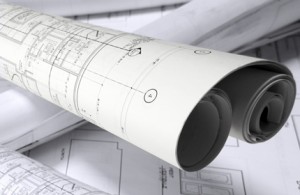 A recently enacted bill in the Kansas State Legislature that redefines the scope of practice for architects, engineers and surveyors has been causing some consternation in the engineering community. The result of a four-year consultation, Senate Bill 349, which is due to take effect on July 1, 2014, is designed to update the licensing definitions of the Kansas State Board of Technical Professions (KSBTP). The potential for some unintended consequences of the law has caused some confusion and much discussion in engineering circles, as some say that the new definitions could be interpreted as reducing the scope of the work that engineers are allowed to undertake.
The proposed law creates new statutory definitions for the work that professionals are licensed to carry out in the areas of architecture, landscape architecture, engineering, geology and surveying. The revised law defines "preparing or providing designs, drawings, specifications and other technical submissions" as "professional architectural services," which appears to exclude such activities from the scope of the "practice of professional engineering," as well as the other technical professions that are regulated by the KSBTP. This is clearly something that could cause difficulties for many in the engineering sector.
I ran this past our company attorneys to get some clarification, and their view is that it is essentially "much ado about nothing." The general consensus is that the law is broad enough in other sections to cover the normal practices of professional engineers, and that any minor drafting errors will be corrected next year; organizations like ACEC and KSPE will make sure of that. In the interim, they believe it is unlikely that any Kansas PE risks being disciplined by the board for preparing engineering drawings or specifications. In fact, the KSBTP released a clarification on May 19, 2014, which states:
"Recently concerns have arisen about the interpretation of certain provisions of SB349. Based on the KSBTP interpretation of the statutes, the KSBTP will not pursue any properly Kansas licensed Architect, Landscape Architect, Professional Engineer, Professional Geologist, or Professional Surveyor for preparing, sealing, and submitting any plan, drawings, specifications and/or technical submittals resulting from professional services within their individual area of expertise. If further clarification of the statutes is necessary, then legislation will be requested and pursued during the 2015 Kansas legislative session."
So it looks like business as usual for Kansas-based engineers, despite the early concerns that the new law provoked. It does go to show that, however well intentioned, new legislation needs to be carefully crafted to take into account the practical considerations of the industries that it affects.
Jon A. Schmidt, PE, SECB, is an associate structural engineer in the Aviation & Federal Group with nearly 20 years of experience in the design of aviation, industrial, commercial and institutional facilities for government, military and private-sector clients. You can find Jon on LinkedIn or follow him on Twitter.