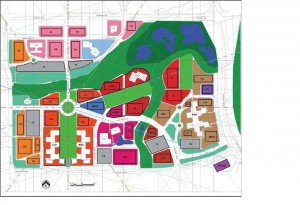 Utility master plans are one of the most critical tools for campus infrastructure systems. Without a master plan in place, campus systems are flying blind, reacting to increased demands on the utility systems as they come. Each rushed decision impacts the next and creates cascading effects. The good news: With a little upfront planning today, utility master plans can help campuses achieve big paybacks tomorrow — and can update systems to run more efficiently and cleanly.
What Is a Master Plan and Why Do I Need One?
Simply put, a utility master plan (UMP) is a comprehensive study of existing utility and energy services that then analyzes forward to set the future infrastructure roadmap for a campus. It's developed to help campuses plan for long-term expansion and development. With a plan in place, campus utility groups can be confident in their strategies to manage expanding utility systems, infrastructure, growth and energy.
The importance of UMPs continues to grow as campuses evolve and pressure mounts to cut costs, reduce environmental impact and improve resiliency. Proactive development of a plan will put any campus on a long-term path to creating an effective utility program. By planning early, individual end-users and system owners can realize the benefits of system capacity, efficiency, reliability and environmental impacts, among other factors.
Positioning Your Campus for Future Success
When done correctly, a master plan can position a campus for success. For example, master plans developed in response to weather disasters have helped campuses prepare for major resiliency improvements and hardening. Master plans such as the ones at Ohio State, Purdue and Harvard include combined heat and power (CHP) systems for economic and environmental benefits along with major reliability improvements. Many master plans focus on costs and can save millions of dollars annually and over the entire life cycle of a utility system. With a thoughtful process in place, master plans can also significantly reduce emissions, which is the often the single largest area of opportunity for campus systems.
If the topic of utility master planning interests you, make plans to join me for a free webinar on at 1 p.m. Central time Wednesday, October 1. My colleague Blake Ellis and I will be presenting a comprehensive overview of utility master planning, including why and when you need one, how to conduct a study, and the challenges and issues that come with starting and/or implementing one. We'll also share some of our own case studies and examples.
If you're involved in a campus installation or are considering bringing your isolated building systems together, I hope you'll join us. You can register through the link below.
Registration: Master Planning for Today for Payback Tomorrow
Jon Schwartz is a manager in Burns & McDonnell's OnSite Energy & Power team. He has more than 20 years of diversified experience leading campus utility system studies and design projects. Want to learn more? Shoot Jon an email or connect with him on LinkedIn.