NOTE: This blog was written by Kimberly Moore, president and founder of KDM Engineering, an engineering firm headquartered in Chicago, Illinois, with a focus on electrical distribution and telecommunications design.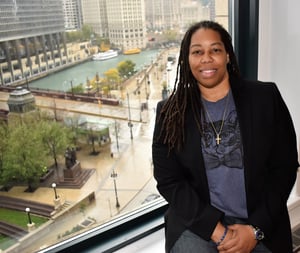 Moore also founded Calculated Genius, a nonprofit focusing on STEM education for young women and minority youth in the Chicago metropolitan area. In December 2021, Burns & McDonnell and KDM Engineering announced a partnership as KDM Engineering aims to launch expanded services in the electrical substation market.
A lot can happen over the course of 20 years. Personally, I've started multiple businesses (and failed), built a career as an electrical engineer, successfully founded my own company and started a nonprofit to teach high school students about science, technology, engineering and mathematics (STEM) careers. While these experiences have been fruitful — albeit demanding — my relationships were what drove me to success.
I learned the value of relationships at a young age. Playing multiple sports while attending Whitney Young Magnet High School taught me collaboration, solidarity and drive. As a Chicago native, I'd be remiss not to share the words of the basketball legend Michael Jordan: "Talent wins games, but teamwork and intelligence win championships." This is a motto worth emulating in all facets of life.
Success looks different for everyone, but a big part of it is about elevating your team and paying it forward for future generations. It's important for employees to feel like they are part of a team and to feel like they can achieve success. As a former Division I basketball player, an advocate for women in STEM, and an entrepreneur, here are a few lessons I've learned about leadership, success, relationships and making an impact:
Educating young people about careers. I was fortunate to attend a good elementary school and magnet high school, but I was not exposed to careers in engineering. When my elementary school would invite guests to come speak on career days, students met lawyers, doctors, firefighters and police officers, but not engineers. I was good at math and science, and I had a sense about what I wanted to do with my talents, but it wasn't until I got to college and spoke with a guidance counselor that I realized I could pursue engineering as a profession. There are numerous opportunities available for youth interested in STEM professions, but we need to expose them to these opportunities.


Providing financial means. In 2016, I founded Calculated Genius to educate marginalized and minority youth about STEM professions. The organization provides three pillars to the community. We provide a Summer Scholars Program that introduces students to real-life applications of technology and engineering, combined with entrepreneurship, during a six-week summer session. Second, we provide mentors post high school graduation to assist with integration into collegiate life. Finally, we have an important scholarship program for women in engineering and computer science. In 2020, we provided more than $40,000 in scholarships, and in 2021, partnering with LinkedIn, we were able to provide nearly $60,000, as well as our first two four-year scholarships. These initiatives aren't just about educating youth, but also sparking their interests, providing a path financially and hopefully inspiring future generations.


Taking risks. I started my businesses in 2009, just as the economy was crashing. I emptied my 401(k) to finance my startup and eventually sold my house. When my father was diagnosed with cancer, I took a break and I headed to Indianapolis to care for him. It was a rough period, but I never gave up on my dream. After his passing in 2011, I moved back into my childhood home in Chicago with my mother and grandmother as I tried to start my business, again. Eventually, my persistence paid off as we received our first contract in January 2012. Today, KDM employs more than 100 people, with branch offices in Baltimore and Philadelphia. These early experiences were very humbling and it taught me that no matter how hard I prepare there will always be something I need to learn. Even today, I am learning what it means to pivot — especially as we navigate the COVID-19 pandemic — and be an effective leader.


Valuing people. One of the most important lessons that I've learned is to invest in people. As the president of KDM, it's important to me that I introduce myself to every person we hire. Of course, our main goal is client satisfaction, but I want my employees to know that I care about their individual careers and their well-being. If an employee has dreams of starting a business or wants to know about career progression, I invite those conversations. We have done things at KDM that don't focus on bottom line numbers but demonstrate how we care about individuals. We have brought on a full-time career coach. We have weekly meditation sessions for the company. Lastly, we have a full-time culture and engagement manager.
Getting involved in your community doesn't mean you have to start a nonprofit or your own company. Also, success is not a one-size-fits-all endeavor. It means finding the right teammates, learning new skills and sparking your professional interests. Take a moment to ask yourself, "What is important to me and what do I value?" I wanted to pursue a career in engineering but wasn't sure about starting my own business in that industry. It was important for me to be there for my family and it is important to me to support the next generation of engineers. When you can identify what is important, it is easier to get the work done.
This post is part of Together By Design, a quarterly business diversity newsletter published by Burns & McDonnell to advance a community of inclusion. This newsletter features stories of great opportunity, leaders who bring out the best in others, innovative approaches, and diverse perspectives that shape the business community and the world at large.