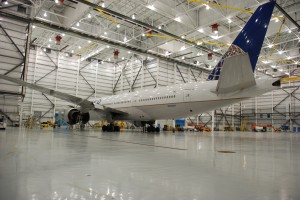 The opening of the new United Airlines wide-body hangar at Washington Dulles International Airport will, according to the company, deliver greater reliability to the airline's customers and help to enhance their travel experience. The $45 million project, which involved design and construction administration teams from Burns & McDonnell, will mean more maintenance issues can be fixed on the spot, reducing the amount of time an aircraft must be out of service.
At 125,000 square feet — 85,000 square feet of enclosed aircraft space — the new hangar accommodates maintenance work on two wide-body or several narrow-body aircraft simultaneously. United Airlines Chairman, President and CEO Jeff Smisek said of the new facility, "This is the best we have in all of United. It'll be the model for all the hangars we are building in the future."
This was an exciting project, and it represents a significant investment in Dulles for United Airlines, who now employs approximately 300 technical operators at the airport, which is a major United hub and the airline's principal gateway to the Middle East. Jack Potter, President and CEO of the Metropolitan Washington Airports Authority, says, "The opening of United's new state-of-the-art maintenance hangar further solidifies Dulles International's position as a world-class hub for aviation. This hangar is a significant investment in the airport and the region, and it will support smooth, efficient travel for the more than 14 million United passengers who fly through Dulles each year."
United Airlines now has maintenance hangars at its hubs in Chicago, Cleveland, Denver, Houston, Los Angeles and San Francisco. The company is also nearing completion of a wide-body hangar at Newark Liberty International Airport, another Burns & McDonnell design project.
For me and for my team, it's an honor to continue a long history of involvement with the development of Dulles Airport with this latest project. We take great pride in the part played by the teams from our New York metro and Norfolk-Hampton Roads, Va., offices in bringing the new hangar facility to fruition.
If you're interested in aviation issues, here's a link to download our 2013 Aviation Special Report: The Technology Spectrum — Integrating Technology into Airport Planning, Design, Construction and Program Management.
Jerry Jorge was the project manager for the wide-body hangar at Dulles International Airport. He has more than 20 years of experience with architectural design and project management for commercial, Federal and Department of Defense (DoD) clients.