Leigha Sledge, now an architect in the Aviation & Federal Group at Burns & McDonnell, liked drawing homes and buildings as a kid and knew by the sixth grade she wanted to be an architect.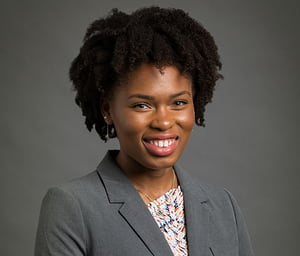 Sledge was like so many young girls who are encouraged to believe they can do and be anything. Despite this encouragement, there aren't enough women employed in science, technology, engineering, and math (STEM) fields to achieve gender equality.
In the U.S., according to the most recent Census Bureau data, only 27% of STEM jobs are occupied by women. This lack of representation matters because growth in STEM jobs is expected to outpace that of non-STEM careers in the coming years. Plus, STEM occupations continue to rank higher on the pay scale than non-STEM jobs. Lack of representation also matters because without women and people of color in the workplace, different voices, opinions and ways of thinking won't be considered as companies work to address client challenges in innovative and dynamic ways.
Sledge, who as an intern created the winning design for what is now the MacKids Learning Academy at the Burns & McDonnell world headquarters, believes the dearth of representation of women and people of color in STEM careers is due in large part to a lack of exposure to role models at a young age.
"It's important for companies to develop a diverse pipeline of STEM talent," says Sledge. "It's one thing to tell a kid they can be anything. It's another to show them. It sinks in differently. We need to show kids interested in STEM that there are people like them doing what they want to do, so they know it's possible; it can happen."
Through her volunteer work on behalf of Burns & McDonnell, Sledge enjoys showing young people what is possible by generating excitement in them through activities that awaken curiosity and expand imaginations.
Her efforts include being involved with Engineering U/Architecture U, a Burns & McDonnell day camp for high school juniors and seniors that allows them to explore STEM careers. As part of her involvement, she ignites enthusiasm in students by giving them real-world challenges to solve.
"I like teaching students and offering exercises to teachers that let students know that, through architecture they can do so many things," Sledge says. "From designing an ergonomic hospital bed to designing a city, they can affect lives in lots of ways."
Sledge admits that while she was good in science and math as a kid, what really fueled her and continues to motivate her is a love of problem-solving. She believes that for anyone pursuing a career in a STEM field, what is going to help them succeed and be of benefit to an employer are traits like being curious, consistent, tenacious and creative.
"Having a creative mindset and being able to look ahead to the future is what drives innovation and it's what will help put a company ahead of the competition every time," she says.
Sledge says she was fortunate because when she was young, she knew someone who worked in the field. A friend's father was an architect. With his encouragement and that of her parents, Sledge enrolled at the University of Kansas, where she earned her master's degree.
With only 1.9% of architecture degrees accredited by the National Architectural Accrediting Board earned by Black women, Sledge recognized early the importance of finding community and connection with other minority architects. While in college, she was among only 15 Black students out of 500 students in the university's 5-year architecture program. However, the program was about equally split between men and women, suggesting a gender shift is occurring.
Once Sledge entered the master's program, she was awarded a Multicultural Scholars scholarship and the resources that came along with it. The scholarship program allowed her to bond with others like her and became a safe space where she could connect with minority staff and students. Through the program, she networked with alumni who had been in the program before her. She also was mentored by professors as committed to her success as she was.
To keep that sense of community alive, Sledge is now a member of the National Organization of Minority Architects (NOMA), and she's counting on other women and minority STEM professionals to help keep the diversity momentum going.
"I believe being engaged in your community is important. People need to find their tribe — those networks where they feel they belong — and then they need to find young people to mentor," Sledge says. "We need to encourage young people to believe true change starts with them. Children need to be told they can't leave it up to others to change their communities and the larger world. They should be inspired to look for opportunities to impact their surroundings and STEM careers are a great way to accomplish that."
This post is part of Together By Design, a quarterly business diversity newsletter published by Burns & McDonnell to advance a community of inclusion. This newsletter features stories of great opportunity, leaders who bring out the best in others, innovative approaches, and diverse perspectives that shape the business community and the world at large.