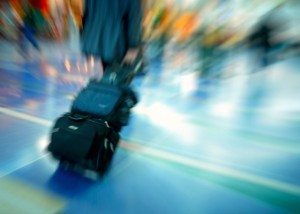 The self-service trend in air travel began in the 1990s with online check-in for passengers. Today that trend has become a revolution, with nearly every aspect of flying moving toward self-service, making life easier for air travelers.
If airports and aviation planners aren't considering increased self-service options in their designs for new or renovated facilities, they're already behind the times. The 2014 SITA Airline IT trends study (registration required) showed that 87 percent of airports plan to invest in self-service processes in the next three years.
Travelers increasingly embrace self-service for quicker, more efficient transactions and for control over more steps during their travels. Airlines use the technologies for enhancing the overall passenger experience, since their employees can focus more attention on those travelers who need more assistance. Airports gain flexibility with facility layouts as well, since self-service can ease congestion and improve overall operational efficiencies.
I'm familiar with these win-win benefits — both as a frequent traveler and as a specialist in improving the passenger experience through self-service technology. Since joining Burns & McDonnell, I've relied on my 15 years of experience to help airports and aviation planners design and implement self-service in airport facilities.
Putting Passengers in Control
Self-service technology helps passengers take control over more steps in their journey. At the $2.4 billion Terminal 3 at McCarran International Airport in Las Vegas, several passenger-friendly self-service systems allow passengers to print their own boarding passes, affix their own baggage tags, scan printed or mobile boarding passes to pass the security checkpoint and self-board the plane.
That standard is becoming more commonplace. According to the SITA study, 52 percent of airports plan to implement self-boarding by 2017. By 2020, the International Air Transport Association (IATA) hopes 80 percent of global passengers can take advantage of "a complete, relevant self-service suite throughout their journey."
Prudent use of technology lets passengers define how much interaction they want with staff. Travelers can also proceed at their own pace, rather than feel rushed along with the crowd. Of course, some passengers will always prefer personal assistance, and the technology flexes to allow that.
Streamlining Airport Processes
For passengers, especially non-native speakers, self-service allows more time to read and process information. Throughout the journey, they're in charge: carefully applying a bag tag to their luggage, placing their luggage on a bag drop unit, presenting a digital boarding pass at security, scanning their own boarding pass at the gate, and walking onto their plane.
The experience continues after landing, where self-service technology directs passengers to their connecting flight, bag claim carousel or ground transportation. If there's a problem with mishandled luggage, they can file their own claim instead of standing in another line. Some airlines permit bag tracking from a mobile app, allowing you to confirm the location of your bag. Passengers expect self-service options even during disruptions, including flight-rebooking via mobile app or kiosk.
Helping Airports Prepare for the Future
Self-service technology works best when integrated with facility design from the beginning. We work with airports and aviation planners throughout the process to strategically design and build technology that meets their needs and goals. We don't just specify the equipment. We make sure it performs as designed, by coordinating each step of staging, implementation, testing and commissioning. By including oft-overlooked training and handover documentation, our designs ultimately let passengers flow through the airport as smoothly and efficiently as possible. This design-build approach to integrated technology delivery offers airports and their stakeholders more control over terminal operation decisions, reduced implementation time, and more predictable and often lower costs. Reduced stress on travelers improves the overall experience, resulting in higher airport satisfaction ratings.
What self-service technologies do you think hold the most promise for the future of air travel? If you'd like to explore the benefits of improving the passenger experience through technology, feel free to comment below or reach out on LinkedIn.
Stuart Garrett is a project manager in the Burns & McDonnell Aviation Group. He guides clients through the strategic integration of technology from planning to final installation and system acceptance. You can connect with Stuart on LinkedIn or Twitter (@exitrowseat).