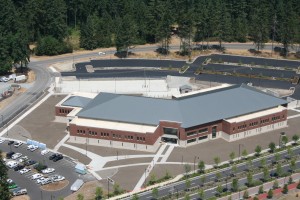 Creating secure networks is vital for the future of the Department of Defense. For the Army National Guard (ARNG), that means communicating across multiple network platforms to support military operations at home and abroad to protect our troops and our infrastructure. In order to accomplish this level of network security, a modern, high-tech, flexible and secure workspace environment is needed.
As the National Guard's missions have grown, so have the technology and communications infrastructure requirements to support them. The aging facilities where network operations have been functioning weren't designed for such high-tech, secure missions, and many no longer have the space, infrastructure or reliability to support the growing mission. In aging facilities, providing a secure environment to perform the mission can be both challenging and cost-prohibitive. That's why many Department of Defense units are turning to new facilities for boosting troop readiness.
Designing for Now and the Future
Later this year, a new Information Operations Readiness Center (IORC) will open at Joint Base Lewis-McChord, Washington. The new facility will serve as Headquarters for the Theater Information Operation Group of the Washington Army National Guard (WA ARNG) and will consolidate members from seven separate facilities across the state. The new facility will give them a secure environment where they can train together across multiple secure networks to synchronize information operations (IO) and other related mission efforts that they will perform when deployed.
Our team worked with WA ARNG to understand their current and future operating requirements. The new facility provides a space that is tailored to support each mission's unique operating environment – including collaboration areas on raised floor, command suites, security level and multiple network infrastructure, all in compliance with ICD-705.
The new facility design includes both secured and unsecured administrative, planning, briefing and support areas. These functions are located in secured zones that are segregated from the rest of the facility. These work areas are blended with the typical features of a readiness center – assembly hall, classrooms, learning center, unit storage with vaults, and individual locker storage. The IO work areas contain a mixture of command suites with self-contained private offices for each unit and large open plan workstation areas configured for a collaborative work environment to meet the mission needs.
A large teaming area is provided on a raised floor system with network cabling below the floor to provide flexibility for training across multiple networks which is critical to the IO mission.
Designed with Network Security in Mind
The IORC was designed specifically to support WA ARNG's mission and to provide a secure network operating environment by incorporating several key features:
Secured the perimeter through specialized design of construction and electronic security systems to prevent both physical forced entry and electronic security breaches.
Secured classified networks by specifying fiber optic cabling and keyed adapters, and maintaining separation to prevent a network breach and enable functionality across multiple network platforms.
Reduced sound transmissions across the secure boundary through layered wall construction design and sealed penetrations to attenuate airborne sound from discussions, including amplified sound for video and teleconferencing.
Mitigated emanations by segregating systems and applying countermeasures such as maintaining an accessible boundary for inspection, minimizing boundary penetrations, providing dedicated systems within the secure area and grounding metal boundary penetrations.
Developed secure hook-up for connectivity to mobile ground tactical platforms to allow real-time training to simulate field exercises within a secured physical compound.
During the design process, we worked closely with key project stakeholders including the Accrediting Official (AO) and Site Security Manager (SSM) to integrate the physical security and network distribution with the overall building architecture. We assisted them in the development of a construction security plan (CSP) and assessed security in depth (SID) for the entire building and site. This integrated design approach addressed security both at final completion when the facility is operational and provided a planned approach for the SSM to manage the observation of the secured components during construction.
A Security Prototype for the ARNG
Network security is a hot topic for the Department of Defense, but all government agencies, down to the state and local levels, are also concerned with cybersecurity and protecting their infrastructure. The challenges of operating in facilities that struggle to support this level of network security is widespread and agencies are working quickly to develop strategies to find remedies. The ARNG is working at a national level to enhance its capabilities, using the IORC at Joint Base Lewis-McChord as a prototype for planning and programming. Many of the design strategies we developed can be applied to various facilities, including renovations to support secured network operations centers as well as wide-scale mission critical secured network environments for comprehensive mission support.
If you work with critical operations facilities, I'd love to talk more about how our team can help develop innovative solutions to secure your mission critical facilities. Shoot me an email or connect with me on LinkedIn to learn more.
Amy Clement is a project manager for Burns & McDonnell specializing in the planning, design and construction of secure readiness centers for National Guard facilities. Want to know more about secure networks? Connect with Amy on LinkedIn.
Photo credit: Washington Military Department