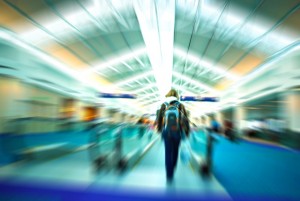 Airports generate enormous amounts of transient data every day, perhaps more than any other enterprise or commercial entity. Passengers arrive and depart; planes take off and land; fuel and food trucks come and go — and related data is discarded or reset back to its default. Irregular operations, or IRROPs, can cause massive spikes in data demands and make historical analysis very difficult.
The airport enterprise itself produces data from both aeronautical and non-aeronautical sources. Adding to the complexity, the growing Internet of Things is adding yet another data source — consumer-driven sources of information fueled by smartphones, wearables and low-energy Bluetooth beacons. Retailers and other concessionaires are scrambling to tap the vast potential of a captive audience, eager to find ways to make travel more enjoyable.
New Solutions for New Data Needs
Complex airport operations — combined with a diverse number of stakeholders — create a rich environment for airport terminal engineering, an innovative approach used by Burns & McDonnell to consider the entire ecosystem of an airport, from concept design to construction to commissioning.
Traditional facility design isolates and segments portions of the airport campus, unwittingly creating data silos. As a result, data discussions are left to individual concerns within an airport unless enterprise integration strategies are in place. To make integration even more difficult, these data sources range from simple and unstructured to those that change dynamically in response to complex system behaviors.
Consider the wide range of sources: financial, operational, baggage, building controls, passenger processing, fueling and other ramp services, assets, parking and even environmental data. Each is often left to its own means to aggregate, archive and analyze within its own framework of databases, dashboards and reporting engines. It's a recipe for inefficiency.
The Challenges of Data Isolation
This type of data isolation creates a potential vacuum for an airport seeking to make real-time decisions, especially for data that's not always predictable. At best, the time-consuming task of manually manipulating data from a variety of sources is necessary to achieve the best results. At worst, an airport can lose money if it's not aware of potential outcomes from the decision tree.
Software vendors tout business intelligence platforms to solve this dilemma. But a lack of true terminal engineering means a software solution alone is inefficient, because the inputs are created without designing for data. Without a terminal engineering approach, an isolated design is inherently weak in supporting any type of business intelligence dashboard that may show up in the executive suite.
Some airports are already struggling to adapt to the additional challenges — and the number of data sources used in daily operations will continue to rise. The upsurge in mobile computing will create more requirements for data design that emphasizes on-demand accessibility for applications and users. Cybersecurity and security governance models will be systemic to the entire airport campus, not just to a firewall administrator or risk management department.
How Airport Terminal Engineering Can Help
Fortunately, airport terminal engineering can solve this problem. Airports need relevant, accurate and real-time data to make optimal decisions in today's complex world of aviation. Our team considers all elements associated with a particular subsystem or technology, asking the right questions to start a productive conversation of an airport's needs.
Each airport is unique. The value of terminal engineering is that the methodologies are adaptable, and our experience leads us to recommendations that suit each situation. This results in designs that create more efficient airport operations and management, lowering costs and improving yields. Regardless of an airport's size, governance or stakeholder mix, we can help evaluate and explore the potential for improvements.
Business intelligence software can lead to smarter airports if the core foundation of airport terminal engineering is in place. Whether you have the core foundations in place or are at the very beginning of the process, we can help. Are you designing for data, or just discussing it?
Stuart Garrett is a project manager in the Burns & McDonnell Aviation Group. He guides clients through the strategic integration of technology from planning to final installation and system acceptance. You can connect with Stuart on LinkedIn or Twitter (@exitrowseat).