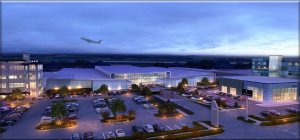 When it opened in 1958 at the beginning of the "Jet Age," the Braniff Operations and Maintenance Base at Dallas Love Field was widely known as one of the nation's best pieces of midcentury aviation architecture. The one-of-a-kind, modern facility embodied the spirit of flight in its architecture: Its central building was flanked by two sloping hangar wings, resembling a bird in flight. Fast forward more than a half century later, and the once cutting-edge complex has spent the past 20 years in derelict abandon.
But now the historic aviation complex will get a chance to spread its wings once more. A mixed-use development is set to bring new life to the long-dormant aviation landmark complex, while preserving much of its rich, historic character.
Mixed-Use Meets Historic Preservation
Spearheading the development is Randall Reed of Reed Enterprises, who hopes to build on the same excitement and passion that inspired the original Braniff complex.
Reed's vision for the Braniff Centre redevelopment calls for preserving many of the distinctive features of the original building, like restoring the façade that faces Lemmon Avenue and retaining the original building color scheme. As a tribute to its past, the development also includes a Braniff International Airways museum that will display an extensive collection of airline memorabilia.
Once finished, the development will feature best-in-class business aviation services, including U.S. Customs clearance for international flights and an array of landside services — restaurants, a boutique hotel and offices.
A State-of-the-Art Aviation Facility
A state-of-the art private aviation facility will anchor Braniff Centre. A new fixed base operation (FBO) structure will be built on the airfield edge, as well as an internal parking courtyard that will replace the deteriorated central building core.
The existing hangars will be modernized to accommodate today's aircraft — up to 50 planes as large as a 737 — and upgraded with the most advanced maintenance hangar technology, including the latest in fire protection systems, lighting and aircraft ground power systems. Additional airside land parcels will be available to corporate and private aircraft operators.
Our aviation team was selected to design and build the airside facility, working alongside The Gravity Company on the existing building's façade restoration. We couldn't be more excited to be part of what is sure to be the one of the premier projects in the business aviation industry this decade. Construction is expected to begin next summer and will wrap up in in 18 months.
If you'd like to learn more about the work we're doing with Braniff, or any of our other aviation experience, I'd love to talk more with you. Comment below or reach out on LinkedIn. As a self-proclaimed aviation buff, this is a topic I never get tired of discussing.
Pat Brown, RA, LEED AP, is an architect who has spent more than 35 years designing and building aviation support facilities. He works with airports, airlines and other airport tenants designing aircraft line and heavy maintenance hangars and shops, paint hangars, ground support vehicle maintenance facilities, air cargo centers, flight catering facilities, and all the other buildings the passenger never sees.