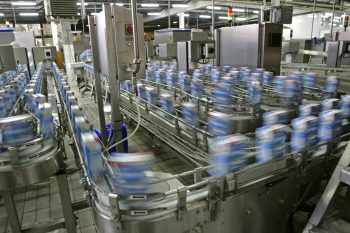 Few industries evolve quite as quickly as the food industry. Just think about it; the low-fat and carb-free fads from 10-20 years ago gave way to today's "real food" movement, where consumers increasingly want locally sourced, fresh products with a focus on niche or specialty foods. These ever-changing trends can present some serious challenges for food processors.
Challenges Facing Food Processing Plants
Historically, it wasn't uncommon for food processing plants to be in continuous operation for 100 years or more. But today, the lifespan of newly built food processing plants is much shorter, averaging 20-30 years, with some production lines shutting down after a few short years in operation. When this happens, plant operators are left with a highly specialized facility sitting dormant that can't be resold or repurposed without a hefty investment.
So what's the solution? That's exactly what a study commissioned by the Industrial Asset Management Council (IAMC) and the Society of Industrial and Office Realtors (SIOR) set out to uncover.
The findings are presented in a white paper: "Recipe for Change: The Flexible Food Processing Plant of the Future," which outlines innovative, yet practical, solutions for extending the life cycle of future food processing facilities so they can be repurposed quickly, efficiently and cost-effectively as needs and users change.
The Future Food Processing Plant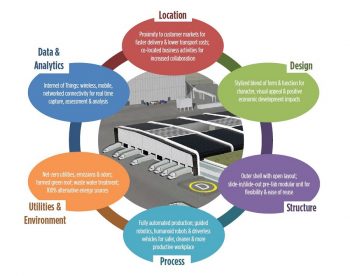 I was honored to work alongside a talented team of engineers, architects and food processors to develop a plant prototype, featured in the white paper, that addresses problems facing today's food processing plants and anticipates challenges associated with emerging trends.
Our goal was to weave flexible design concepts and innovative technologies into the building's structural DNA. The prototype focuses on six key areas of innovation that will help guide plans for future food processing plants as they face disruptive technological changes, a shifting regulatory landscape and rapidly turning business cycles.
Structure — At the heart of the prototype is an open interior structure that accommodates slide-in/slide-out prefabricated modular units for maximum flexibility, which enables an efficient way to adapt to changing needs.
Process — The prototype facility features fully automated processes powered by robotic arms that increase yields, improve productivity, minimize workplace dangers, reduce contamination risk and enhance food safety. Smart technologies such as embedded sensors, molecular diagnostics and biometric monitors can also detect pathogens, reduce risk of contamination and improve overall quality control.
Utilities & Environment — The plants of the future will only consume as much energy and water as they can generate on their own. The prototype features a number of environmentally friendly features like air filtration, on-site water treatment, heat recovery and use of alternative energy sources to achieve net-zero utilities, waste and emissions.
Design — This is the processing plant of the future, where form truly meets function. An architecturally significant, energy efficient exterior envelope lends itself to better alignment with surroundings, increased public acceptance and energy savings.
Location — In response to growing demands for fast, fresh and local foods, location in proximity to dense population centers has never been more important for the food processing industry.
Data & Analytics — Embedded smart technologies and fully networked environments offer a real-time, 360-degree view of the entire value chain, more efficient operations and more effective — and strategic — decision-making.
Recipe for Change is the first in a series of reports commissioned by the IAMC, the SIOR and the SIOR Foundation to explore potential new design approaches that could lead to more flexible, adaptable and sustainable processing facilities in the future.
Interested in learning more about the food processing plant of the future? Download this white paper, or if you'd like to discuss the technical aspects of the plant prototype, feel free to reach out to me or one of my colleagues, including David Findlay, Matthew Stagemeyer and Mal Warrick on LinkedIn.
Wayne Young is a project manager in the Environmental Studies & Permitting group, Stakeholder Management Solutions, managing right-of-way projects and other real estate-related issues. He is a co-chair of the Education and Research Council of the Industrial Asset Management Council (IAMC).