Engineers embrace challenges. Solve problems. Make things work.
And doing all that and more on a prominent project — one for a landmark near and dear to a community's heart — just makes such work all the better.
For us at Burns & McDonnell, the new Carriage Pavilion Bridge at the historic Union Station in Kansas City characterizes the careful, attentive and successful work of designers who dedicate their professional knowledge and skills to the advancement and betterment of human welfare. It's a fitting reminder during Engineers Week, celebrated annually by the National Society of Professional Engineers.
The new bridge, an engineering, procurement and construction (EPC) project led by Burns & McDonnell, provides more than a long-awaited direct connection between Union Station and an adjacent parking garage. The design also improves convenience for drivers, eases access for pedestrians, promotes visual interest for arriving visitors and generates majestic views of the downtown skyline.
And while there's plenty of room for snapping selfies and capturing wedding portraits, our team took care to be sure that such precious moments would not be interrupted — not by birds, anyway. Management at Union Station had said they wanted a pigeon-proof bridge, and we took care to design the structure that way.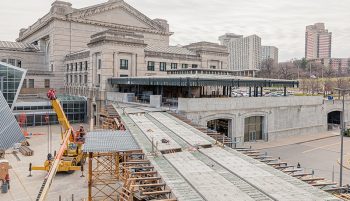 But that's not all.
The bridge is a cornerstone component of Union Station's westward expansion, which includes an outdoor festival area alongside Simple Machines at Play, the latest exhibit coming from our Burns & McDonnell Battle of the Brains competition.
Among engineering fundamentals we incorporated into the bridge:
Warped bridge deck geometry and a discreet drainage system to pipe stormwater away from the pavilion and garage without cluttering the aesthetic or adding inlets that would hamper pedestrian passage.
Expansion joint detailing that takes snow removal and pedestrian safety into account.
Custom precast concrete railings designed and fabricated in close consultation with Union Station and the integrated project team.
We take great pride in hearing from George Guastello, president and CEO of Union Station, that he considers the bridge as "both an engineering and an aesthetic masterpiece," connecting both function and form.
"A mix of high-function, historic reference and physical beauty, the bridge immediately solved a long-standing and significant customer experience challenge for the station: moving volumes of pedestrian and vehicular traffic intuitively in and out of our massive historic campus, with ease," he says, noting that the bridge "was validated by our guests within the first 15 minutes of opening, and every day since.
"In a most literal sense, it's as if the new bridge were always meant to be. It simply took the right time and right partners — Burns & McDonnell — to help us bring it all together. In the end the partnership created something amazing."
We couldn't agree more. Union Station is an amazing place, and we're proud of our strong connections to its enduring structure, its innovative features and its promising future.